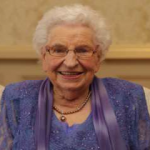 Mary Hickey, the 'Queen of Kilmead' celebrating her 100th birthday in the Clanard Court hotel Athy, on Easter Sunday.
Mary Hickey is the mum of Maura O'Brien and Tommy's mother in law.(Harbour House Sports Club )
Mary was born 5 days after the Easter Rising, on 29th April 1916.
Harbour House Sports Club are very proud of Mary our oldest member and mum, grandmother and great grandmother.
NASRPC would like to take this opportunity to wish Mary a very happy birth-day and indeed many more.
We are sure the O'Briens and everyone else at Harbour House will spoil her no end.
Regards
All at NASRPC.