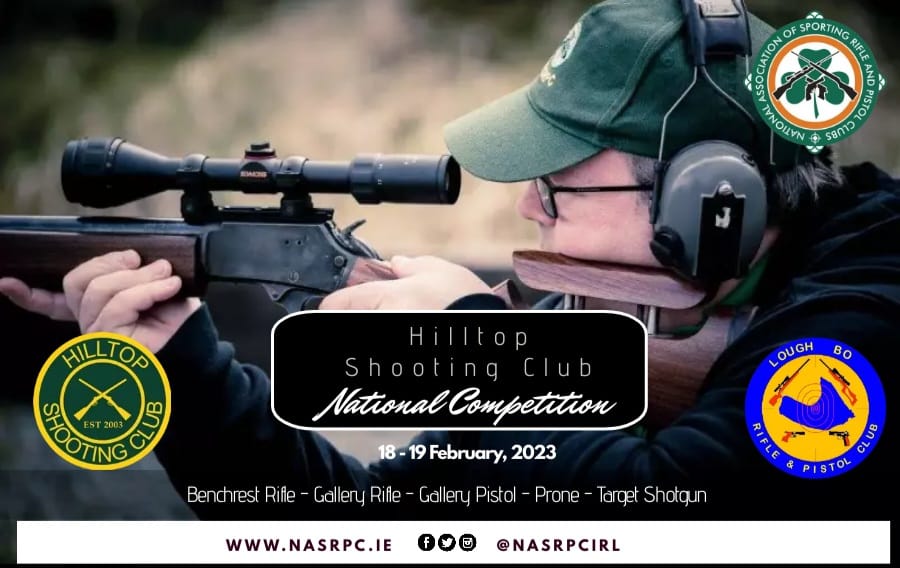 National Competition
Hilltop Shooting Club(@Lough Bo) February 2023
Hilltop Shooting Club will hold an NASRPC National Match in Lough Bo Shooting Centre, Co. Sligo on the 18th and 19th of February 2023.
Disciplines:
50m Benchrest Rifle
50m Prone Rifle
Gallery Rifle (Smallbore / Centrefire / Classic / Open / M1)
Target Pistol (Smallbore / Centrefire / Open / Revolver / Single Handed)
Target Shotgun (Manual / Semi)
Schedule & ​Pre-registration:
    Match Schedule
    Pre-registration
Note: It is only possible to pre-register for 5 disciplines EACH Day during pre-registration.  Other disciplines may be entered on the day – but will not be scheduled.  Pre-registration is not mandatory, but recommended.
Accessibility:
Lough Bo is not specifically wheelchair accessible.  For more information, please contact the club.
Please Note:
All NASRPC Competitions are Open Competitions and will count towards the 2023 National Leagues.
    First Detail will begin at 10:00am on both days.
    Last Detail will begin at 5:00pm on both days.
Results will be posted in the days following the event, medals will only be awarded in classes where there are sufficient entries.
Directions:
    Google Maps
More Info:
If you have any questions or require any further information please contact NASRPC