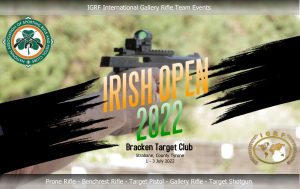 Results – Irish Open – 2022
NASRPC would like to thank everyone who travelled to Bracken this past weekend to take part in, or volunteer at, the 2022 Irish Open. It had been a long time since the last Irish Open in 2019, also held in Bracken, so it was great to get back out and give everyone an opportunity to take part in an International Event.
The weather was "changeable" over the weekend – with equal parts rain gear and sun cream required – but it didn't bother anyone and competition carried on. We had volunteers from many clubs ensuring everyone had a safe and enjoyable weekend. Without volunteers, it could not happen – so again, thank you.
While competitors could not see it, as they were too busy shooting – back in the back office we could see some great battles for the Aggregates across the weekend with, for example; Brackens Mark Neely and NITSAs Han Yan battling it out for the Smallbore Pistol Aggregate with Mark finally taking it by a very narrow margin of only 7 points. Han, who had a huge weekend, awards wise, managed to take the Centrefire Pistol Aggregate – by only 3 points – from Rodger Trotter of the Precision Target Association. Ulster Rifle Associations Trevor Jones was on top form, taking both the GRSB and GRCF Short Aggregates.
BDMPs Daniel Blagojevic, also on top form, took both the GRSB and GRCF Championship Aggregates. Lough Bo's Andy McGowan and Courtlough's Eamonn Gallagher had been in the mix for all GR Aggregates throughout the weekend – but both Trevor and Daniel maintained a very good streak to take the Golds. ECSC's Asa Redmond shot very well in the Field Sporting Prone events – and managed to take the aggregate – but only by the smallest of margins – only 1 point – from Brackens Philip Haughey.
BDMP's Daniel Blagojevic set a new OSBPGP85 Record of 846.061 – beating the previous record of 846.057, set by MTSCs Con Dunleavy in the Midlands shoot in September 2020 ……. only to have it snatched away by NITSAs Han Yan, himself setting a new Record, of 847.048. Brackens Frank Cullen, shooting a 300.028 in GRCFTP1 set a new 3 year record – beating the previous 3 year record of 300.027 shot by Donegal Target Clubs Mike Kelly at the Irish Open in July of 2019 in Bracken. That score has been shot before – but Mike held the 3 year record until this weekend. IPAPCs Jeff Kehoe actually holds the all time record of 300.029 first shot in the National Championship Finals in November of 2016.
In the IGRF Events we had teams from Ireland and Germany take part in both the GRSB Team event and the GRCF Team event. On this occasion Germany successfully won the Centrefire and Smallbore Team events taking 1st place in both. We look forward to the return leg at the German Open, where we will have another opportunity to test ourselves.
A great night was had in the Fir Trees Hotel in Strabane on Saturday Night after a long days shooting – a few glasses were raised, a few lies were told and we kept the speeches to a minimum. We are already looking forward to next years Open. The next events on the NASRPC Calendar are BRC Shooting Club, Co. Dublin on the 23rd and 24th of July followed by East Coast Shooting Club, Co. Wicklow on the 13th and 14th of August. The next event on the International Calendar is The German Open in Leitmar on the 11th, 12th & 13th of November.
On that note, Everyone – not just the Teams – are always invited to take part in the German Open in Leitmar in November – it's always a great weekend shooting and craic – so if you want any information on how you can take part too – then just drop a line to competitions@nasrpc.ie. We look forward to seeing you all on the line again soon – thank you all for a great weekend.