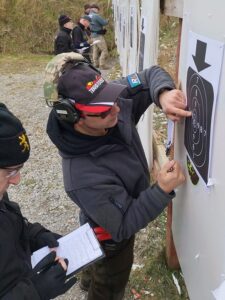 Results – MNSCI – March 2023
And that's a wrap for the 2nd event of the 2023 season in Midlands National Shooting Centre.  Special thanks as always to the RO's for keeping the lines running all weekend, John for keeping everyone fed with his legendary curry, and all the back office staff behind the scenes.
We seen many Personal Bests and National Records set over the weekend, a few examples being,
Mark McCandless – OSBP25P – new All Time record of 294.011, previous record Con Dunleavy with a 292.014 shot in Hilltop in Oct '19
Con Dunleavy – OSBPTP1 – new All time record of 300.020 – besting his previous record of 300.016 shot in MNSCI in Sept '20
Jakub Mikolajczyk – GRSBTP1 – new 3 year record of 300.020 besting Mike Nestors 3 year record of 300.018 set in ECSC in Aug 22.  All time record of 300.025 still held by John Walsh of the Eagles.
Full match results can be found here, Scoring Challenges will be accepted until midnight Wednesday the 8th of March.
Our next event will be Fermoy Rifle Club on the 1st & 2nd of April, match notice and pre-registration coming soon.