Target Shotgun – Ireland – The 2019 IGRF World Championship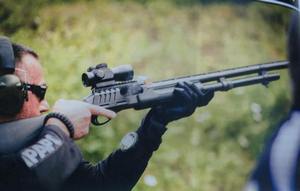 You will all have heard of Target Shotgun (TSG), many of you will have shot it, and some of you may even have competed in it. It is shooting shotguns freehand (no support) with slug ammunition. In Ireland it is a growing discipline and in 2019 the competition has been fierce with new shooters succeeding in taking their place on TSG Team Ireland teams.
Target Shotgun:
Target Shotgun is broken down into two main different subgroups.
TSG Manual – Slug Ammunition – Pump Action.
TSG Semi – Slug Ammunition – Semi Automatic.
Shooters can choose to use optics or not, Red dots and scopes are more popular.
Currently the disciplines shot are Timed and Precision 1, Multi Target and Embassy Cup. For International Matches a Long Range Target Shotgun is also shot. This involves shooting slug ammunition out to 100 & 200 metres, no easy task!!!
The International Target Shotgun Federation:
The international body for Target Shotgun is the International Target Shotgun Federation (ITSF). Member states currently are Ireland, Great Britain, Germany and South Africa are in the process of joining the ITSF.
International Match:
So how does the International Match work for TSG?
The TSG Team is made up of five shooters, they each shoot their individual matches of Timed & Precision 1, Multi Target, Embassy Cup and a long range match of 100 & 200 meters.
The aggregate score of these four matches is the shooters TSG Team Ireland individual score.
As a team, the four best individual scores out of the five team members are aggregated to give the Team Ireland score.
In South Africa the aggregate score will be based on Timed and Precision 1, Multi Target, Embassy Cup and a 50 Meter Precision.
In South Africa target shotgun will start with a steels challenge on the 25th of October, and T&P1, Multi Target, Embassy Cup and 25 Meter Precision will be available to shoot from the 28th to the 30th of October.
Team Selection:
After last weekend's heat at the Donegal Target Club National it is all down to Lough Bo on September 21st & 22nd. You can see who is in the running for team selection by visiting the NASRPC website.
After the results are issued for the Lough Bo National the top five (qualified) shooters on each leader board are the teams that will represent Ireland in the ITSF Target Shotgun International in South Africa.
The IRL column indicates if someone qualifies for Team Selection.  If people are unavailable or don't qualify for selection – the next ranked person on the board will be substituted.
A few words from the TSG National Discipline Coordinator Mr. Dean Parker:
Since the idea of the ITSF was conceived in 2016 target shotgun has progressed dramatically, little did we know during those long hours of conference calls and meetings with the other nations we would progress so quickly and the sport would be so popular.
We are blessed to have a fantastic squad of world class shooters from which to pick our teams. It has however been a very steep learning curve. We have already achieved much with two international silver medals for the teams in 2018 and 2019 and many individual medals.
Team GB have beaten us both times by an ever decreasing margin but we are closing quickly and believe we have every chance of third time lucky in South Africa.
Team Captain of the semi team Tony Quane is unable to attend SA and will be greatly missed, a captain will be selected in South Africa as per regulations.
As the Target Shotgun and Gallery Rifle Teams continue to train and prepare I would like to wish them the very best of luck in South Africa.
Looking forward we have the Bisley international next year and the worlds again in 2021, both close to home so if you start training hard it could be you next time.
Dean Parker
National Discipline Coordinator/Capt TSGM.
We will publish the teams for the World Cup soon after the Lough Bo National.
If you have any questions on any of the above please contact competitions@nasrpc.ie and we will do our best to answer them.